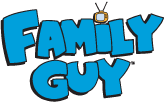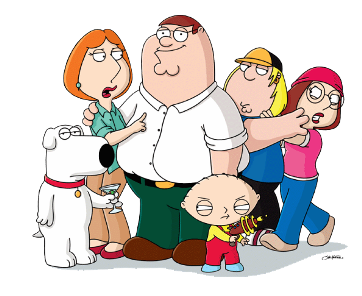 From Wikipedia, the free encyclopedia

Family Guy is an animated American television sitcom created by Seth MacFarlane that airs on Fox and regularly on other television networks in syndication. The show centers on a semi-dysfunctional family that lives in the fictional town of Quahog, Rhode Island. The show uses frequent "cutaway gags", jokes in the form of tangential vignettes.
Family Guy was cancelled once in 2000 and again in 2002, but strong DVD sales and the large viewership of reruns on Cartoon Network's Adult Swim convinced Fox to resume the show in 2005. It was the first cancelled show to be resurrected based on DVD sales.
History
Main article: History of Family Guy
Family Guy was created in 1999 after the Larry shorts (its predecessor) caught the attention of the Fox Broadcasting Company during the 1999 Super Bowl commercial. Its cancellation was announced, but then a shift in power at Fox and outcry from the fans led to a reversal of that decision and the making of a third season, after which it was canceled again. Reruns on Adult Swim drove interest in the show up, and the DVD releases did quite well, selling over 2.2 million copies in one year, which renewed network interest. Family Guy returned to production in 2004, making three more seasons (for a total of six) and a straight-to-DVD movie, Stewie Griffin: The Untold Story. The show celebrated its official 100th episode during its sixth season in autumn of 2007, resulting in the show's syndication. Season 7 began airing Sunday, September 28, 2008. The show is contracted to continue producing episodes until 2012.
Characters
Main article: List of characters from Family Guy
Spoiler:
The show usually revolves around the adventures of Peter Griffin, a bumbling but well-intentioned blue-collar worker. Peter is an Irish American Catholic with a thick Rhode Island / Eastern Massachusetts accent. His wife Lois is generally a stay-at-home mother and piano teacher, and has a distinct New England accent from being a member of the Pewterschmidt family of wealthy socialites. Peter and Lois have three children: teenage daughter Meg, who is frequently the butt of Peter's jokes due to her homeliness and lack of popularity; teenage son Chris, who is overweight, unintelligent and, in many respects, a younger version of his father; and son Stewie, a diabolical infant of ambiguous sexual orientation who has adult mannerisms and speaks fluently with an affected upper-class English accent and stereotypical archvillain phrases. Living with the family is Brian, the family dog, who is highly anthropomorphized, walks on two legs, drinks Martinis, smokes cigarettes and engages in human conversation, though he is still considered a pet in many respects.
Many recurring characters appear alongside the Griffin family. These include the family's colorful neighbors: sex-crazed airline-pilot bachelor Glenn Quagmire; mild-mannered deli owner Cleveland Brown and his wife (ex-wife as of the fourth-season episode "The Cleveland–Loretta Quagmire") Loretta Brown with their hyperactive son, Cleveland Jr.; paraplegic police officer Joe Swanson, his perpetually pregnant wife Bonnie, and their athletic son Kevin; paranoid Jewish pharmacist Mort Goldman, his wife Muriel Goldman and their geeky and annoying son Neil; and creepy old ephebophile Herbert. TV news anchors Tom Tucker and Diane Simmons also make regular appearances (along with Asian Reporter Tricia Takanawa and Blaccu-Weather meteorologist Ollie Williams), as well as mentally disturbed celebrity Mayor Adam West (voiced by and named after the real Adam West).
For its first three seasons Family Guy did not use an especially large cast of recurring minor characters. Since returning from cancellation, many one-shot characters from prior episodes have reappeared in new episodes, although most of the plotlines center on the exploits of the Griffin family.
Heres a ninteen second family guy clip

Hulu Family guy - waterslide
And if you enjoyed that heres another,
hulu Family Guy - Censored
This ones about a minute
Hulu Family Guy - Your Character Can walk
This ones GREAT!
Hulu Family Guy - Two D's and an F
For those who enjoyed the links, here is a link to an episode.
Hulu Family Guy - Tales of A Third Grade Nothing